Shaving, plucking, waxing, oh my! Men and women all over the world have unwanted hair and seek out some form of hair removal. National Hair Removal Day promotes the benefits of advanced hair removal methods and recognizes practitioners and clients alike. Celebrated annually on March 3rd, National Hair Removal Day is a great opportunity for people to learn about the varying hair removal methods available and determine the best one for their needs. Laser hair removal is one method that has become increasingly popular over the years and is the best hair removal method for long-lasting, smooth skin.
Astanza celebrated the very first National Hair Removal Day earlier this year on March 3rd with various client features, shoutouts on social media, LIVE treatment videos featuring the MeDioStar®, and more at our Dallas headquarters.
Keep reading to learn more about National Hair Removal Day, how Astanza and our clients celebrate, and why your aesthetic laser business needs to join the celebrations next year!
---
Astanza Laser Celebrates National Hair Removal Day
You know how the saying goes, "Everything's bigger in Texas," right? We took that saying seriously and went big to celebrate the first National Hair Removal Day at our headquarters in Dallas. From going LIVE on Instagram and Facebook to sharing client content and patient testimonials to setting up a full-blown photo booth with props, the Astanza team had a great time sharing all things laser hair removal for #NationalHairRemovalDay.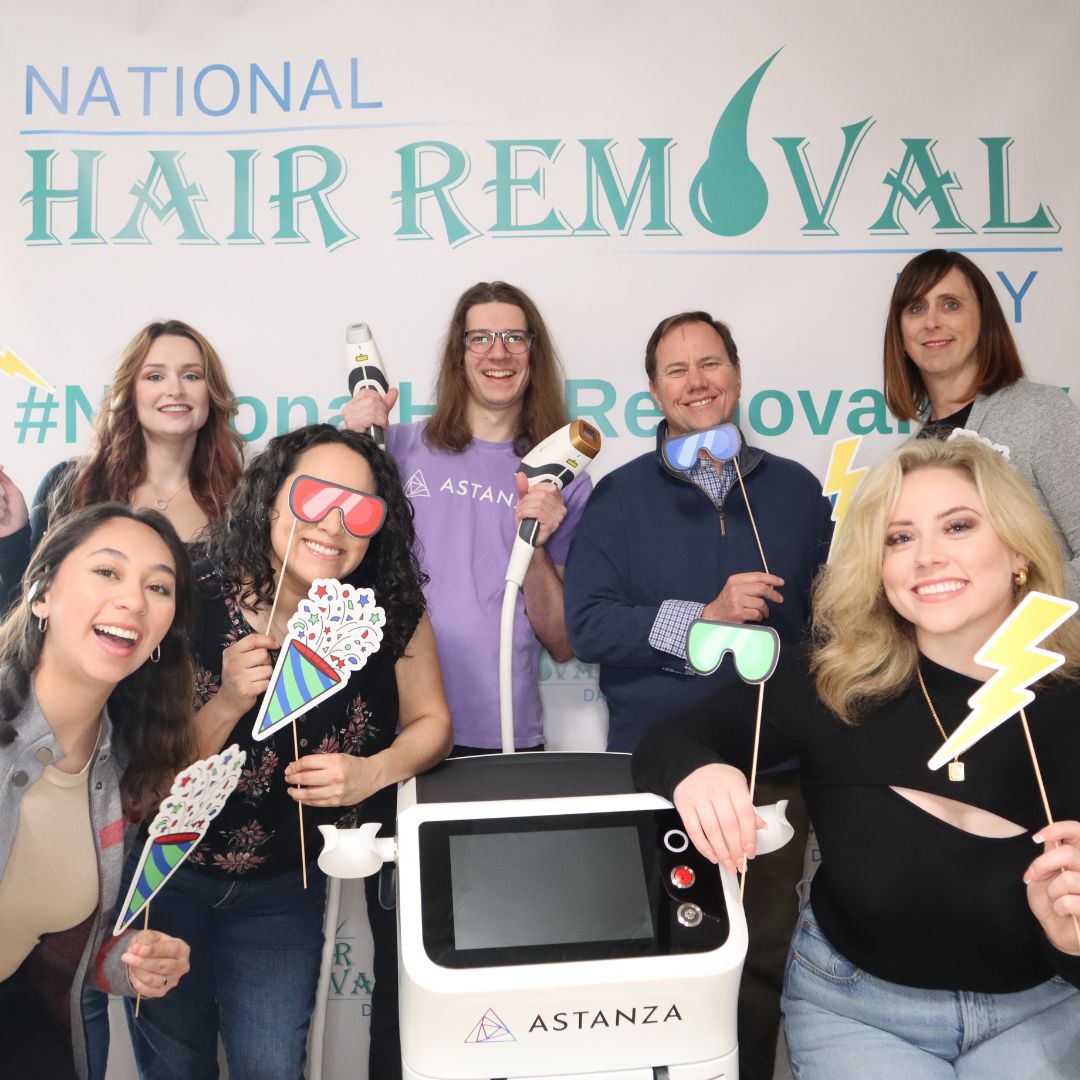 Since we're about all things lasers here at Astanza, we naturally centered our celebrations on laser hair removal and our clients who provide laser hair removal with the Asclepion MeDioStar®, backed by Astanza.
Take a look at this video below, showing a live laser hair removal treatment utilizing the MeDioStar®. Krystal Haney, Senior Clinical Trainer for Astanza, provides the treatment while explaining the process and answering FAQs about laser hair removal.
As you can see in the video above, an entire laser hair removal session for legs can be done in about 15 min, especially if practitioners opt for the XL handpiece, the largest spot size available on the market, at 10cm2.
Dozens of practitioners and laser business owners shared their promotions and celebrations of National Hair Removal Day on social media, educating their audience and touting their premiere services. Check out what people shared on social media using the official #NationalHairRemovalDay hashtag on Instagram and Facebook.
Why Laser is the Best Advanced Hair Removal Method
The most common advanced methods for hair removal include waxing, electrolysis, and laser. Understanding the differences in these methods and the long-term effects will help practitioners educate their clients and persuade them to invest in their services.
Laser hair removal is a non-invasive cosmetic procedure that uses a laser device to remove unwanted hair from various body parts. It works by targeting hair follicles, heating them up, and destroying them with the laser, preventing hair from growing back. It's a newer and much faster method for permanent hair reduction than electrolysis. While waxing is more affordable than laser treatment or electrolysis, results are temporary, and most clients see regrowth just two weeks post-treatment.
When comparing laser to electrolysis, the treatment time for a laser hair removal session is significantly shorter than the average treatment time for electrolysis. Practitioners can treat several hair follicles in one clean pass with a laser instead of targeting each hair follicle individually with electrolysis. Additionally, the average number of laser sessions needed for complete hair removal is between six and 10, while the average number of electrolysis sessions is between 8 and 12.
See what one laser hair removal patient has to say about her treatment experience and why she ultimately chose laser after trying other methods in the video below:
What Makes Diode Hair Removal Lasers the Most Effective
One of the longest-running battles for the best hair removal devices is IPL vs. diode hair removal technology. A critical difference between these two types of hair removal technology is the wavelengths of light utilized. Hair removal lasers typically use one wavelength (and occasionally an additional second wavelength, as seen in the MeDioStar®). IPL devices, on the other hand, produce a broad spectrum of light energy. The visible light spectrum is between 400 and 700nm, and infrared is 700 to 1400nm. IPL devices generally emit indiscriminate light energy ranging from 400 to 1200nm, while hair removal laser devices such as the MeDioStar® emit two wavelengths: 810nm and 940nm. The combination of these two wavelengths found in the MeDioStar® creates long-lasting permanent hair reduction safely on all Fitzpatrick skin types.
Another benefit of diode hair removal lasers compared to other devices is that it is a relatively painless procedure. Unlike other hair removal methods, such as waxing and threading, laser hair removal does not involve pulling or tugging the skin. Instead, the laser device emits a beam of light that heats only the hair follicle, leaving the surrounding skin unaffected.
The Asclepion MeDioStar®, backed by Astanza, is a powerful diode hair removal laser machine that effectively treats unwanted hair anywhere on the body safely on all skin types – even newly-tanned skin. Learn more about the MeDioStar®, the technology behind the best method for long-lasting hair removal, specs, other treatment capabilities, and the overall profitability in our recently-recorded webinar, Inside the Laser: The MeDioStar®.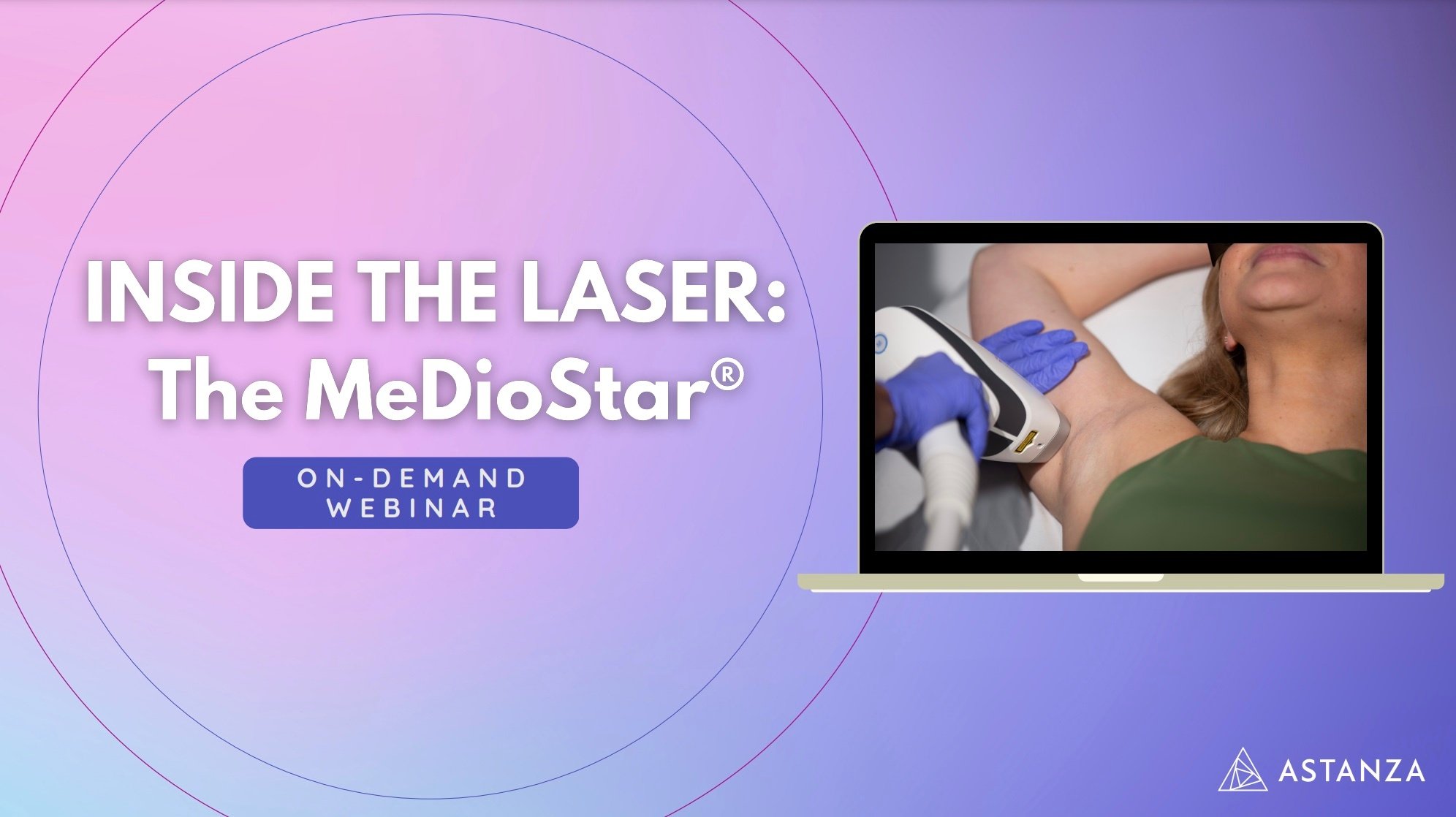 Become Part of the Astanza Experience
National Hair Removal Day is an excellent opportunity for laser business owners to take advantage of a trending holiday and promote their elite hair removal services. Interested in expanding your current offerings and adding laser hair removal to your services? Already offering laser hair removal but using outdated technology? Contact Astanza today! One of our expert business development managers will guide you every step of the way. Everyone who purchases a device from Astanza Laser receives the Astanza Experience – our all-encompassing support system, including a unique Business Builder System, 3-Business Day Service Guarantee, and Lifetime Training and Clinical Support. Learn more about the Astanza Experience and become part of the Astanza Family today!