As an aesthetic practitioner, marketing through special holidays and events can effectively increase brand awareness, reach new clients, and celebrate your loyal customer base. National Hair Removal Day – coming up soon on March 3rd –  is an excellent opportunity to showcase your laser hair removal services and generate revenue. Continue reading for tips on effectively marketing your aesthetic laser business during National Hair Removal Day, including in-house events, social media campaigns, special promotions, and collaborating with other local aesthetic businesses.
---
Promote Your Hair Removal Business with Special Offers
One way to get people engaged and attract potential new customers is by offering special promotions or exclusive offers leading up to and on National Hair Removal Day. For example, consider offering 20% off all laser hair removal sessions booked during that day or a complimentary underarm treatment for anyone who buys a large-area treatment such as legs or back. Promotions like this are effective at generating interest and ultimately driving new business. As a laser hair removal practitioner, you know complete removal takes more than one session. Running a special on treatment packages will get people invested from day one and ensure they finish their laser hair removal journey with your business. Clients who purchase packages will naturally invest in your business for the long run and are easier to sell other services to, converting them into brand loyalty customers over time.
Highlight the Benefits of Laser Hair Removal Compared to Other Methods
When marketing your laser hair removal services during National Hair Removal Day, it's essential to focus on the benefits clients receive from choosing this advanced hair removal method. Benefits include smoother, hair-free skin, improved confidence, and convenience. Other hair removal methods, such as waxing or shaving, include more consumables, which is an added cost for business owners and requires regular maintenance appointments. Laser hair removal is fast, effective, and safe for all skin types and offers lasting results.
Showcase the effectiveness of your laser hair removal device by sharing videos and photos of the procedure, so your audience has a better idea of what to expect during their appointment. Sharing facts about laser hair removal and answering the most frequently asked questions on your website and social media pages will further educate your audience and entice more leads to book a consultation or appointment with your laser hair removal business.
Learn more about the most advanced diode hair removal laser device, the Asclepion MeDioStar® backed by Astanza, by clicking the image below and accessing our pre-recorded webinar, Inside the Laser: The MeDioStar®.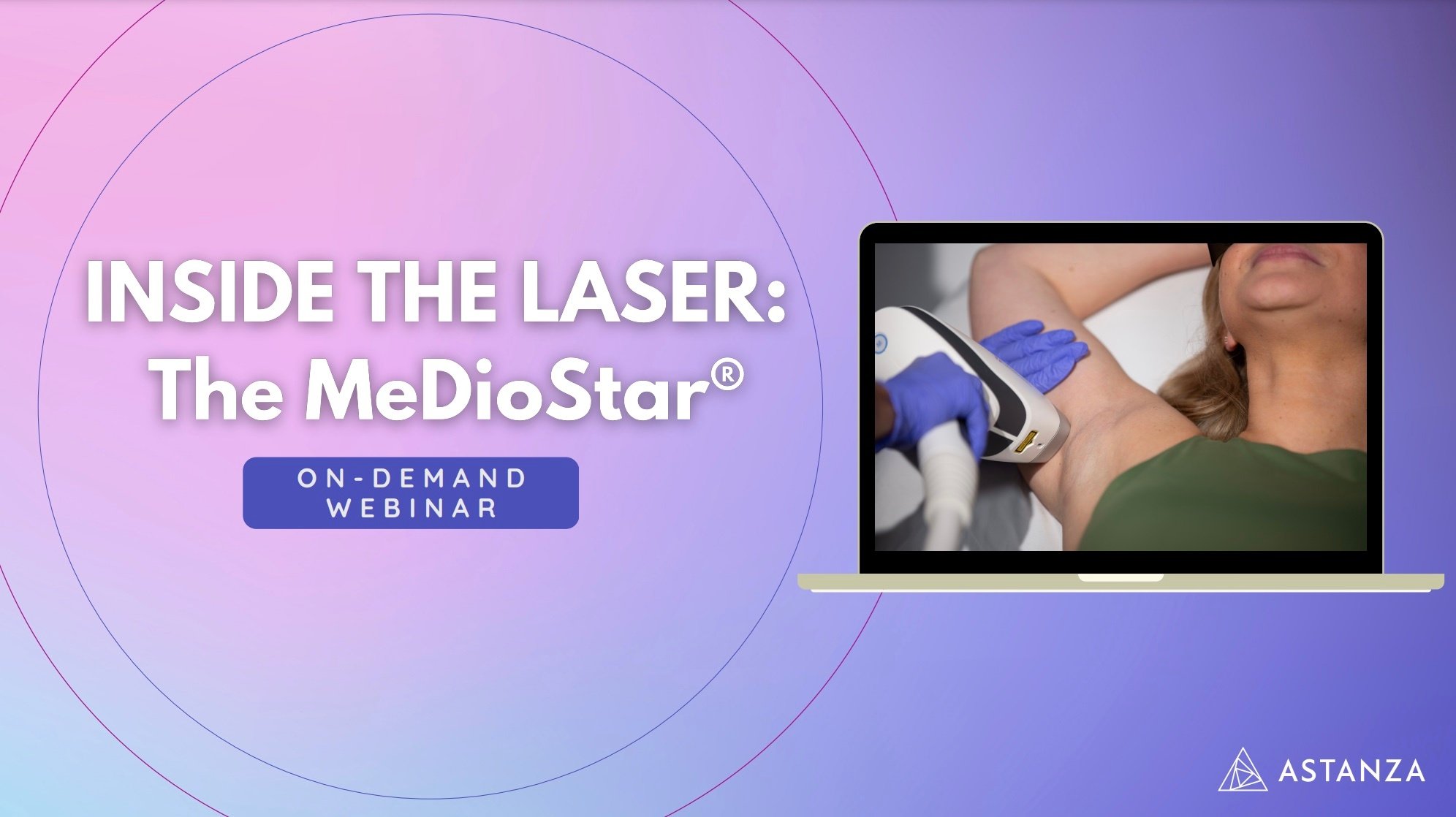 Using Social Media to Market Your Hair Removal Business
Social media is a powerful marketing tool, and National Hair Removal Day is an excellent opportunity to showcase your laser hair removal services to a broad audience. You can use platforms like Instagram, Facebook, Twitter, and TikTik to create engaging content, post before-and-after photos, share client testimonials, and educate viewers on why laser is the best hair removal method for long-lasting results.
Be sure to utilize your website in addition to social media and any other digital platforms your business is active on; joining the trending searches and using #NationalHairRemovalDay and #NHRD will increase your exposure. You should also consider creating a branded hashtag and encourage clients to use it and tag your business page when sharing their laser hair removal experiences on social media. Reviews and referrals from friends and family go a long way when convincing someone to book services with a new laser practitioner – nothing beats positive word-of-mouth! Pro tip: Visit the official National Hair Removal Day website to download free customizable graphics and get your promotions rolling.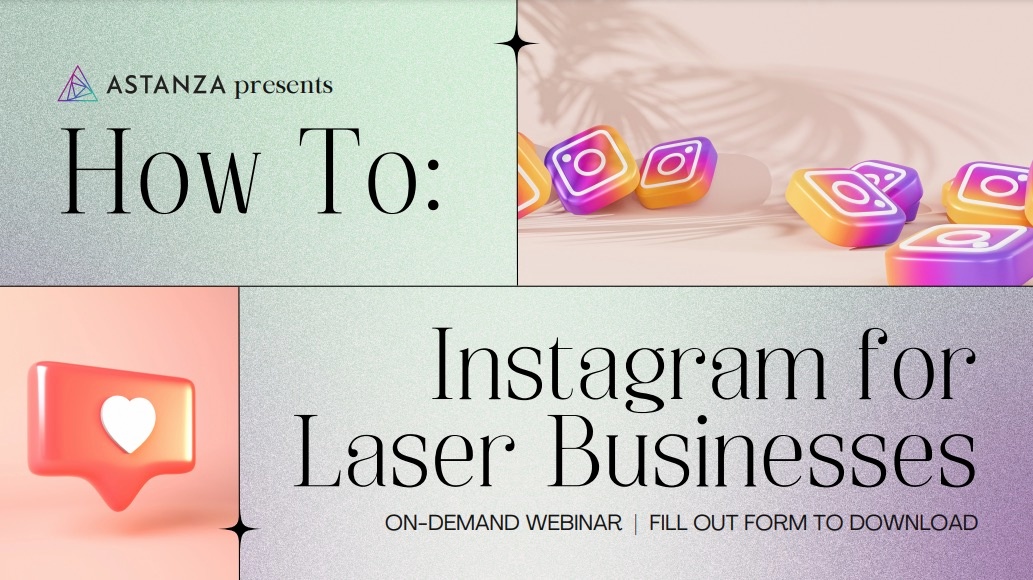 Partner with Other Local Aesthetic Businesses
Another way to market your laser hair removal business during National Hair Removal Day is by partnering with other local aesthetic companies. For example, you could collaborate with a nearby salon or spa to offer a package deal that includes laser hair removal sessions from your clinic and a treatment or procedure from their practice. This can also help you reach a wider audience and generate new business!
Consider taking it one step further and hosting a giveaway on your social media pages, such as Instagram, for one of these exclusive packages. If both businesses promote the giveaway with the typical rules of a social media contest, such as: follow both pages, like the post, tag at least three friends, and share the post for an additional entry, your exposure multiplies. Don't shy away from partnering with another local aesthetic practice to help promote your services and market your laser business for National Hair Removal Day.
Outline a Loyal Clientele Referral Program
Referral programs can be impactful in celebrating your loyal clientele and making them feel extra appreciated for using your services. While you should always focus on providing the best customer service to every client, sharing something more exclusive with your top customers is the perfect way to keep them engaged and encourage them to spread the word about your offerings. During National Hair Removal Day, you could launch a referral program that offers existing clients a discount on their next laser hair removal session for every new client they refer. This will make them feel especially appreciated, drive more people to your business, and ultimately increase your revenue.
In conclusion, National Hair Removal Day is an excellent opportunity for aesthetic practitioners to market their laser hair removal services and reach new clients. By offering discounts and running promotions, highlighting the benefits of laser hair removal, leveraging social media, partnering with other local aesthetic businesses, and creating a referral program, you can generate interest, build a loyal customer base, and increase brand awareness. Always prioritize your clients' safety and satisfaction and provide high-quality services to ensure your success as a laser hair removal practitioner.
If you are not currently a laser hair removal practitioner or are looking to upgrade your technology, contact Astanza! Our team of biomedical engineers, experienced business development managers, and industry experts will guide you every step of the way.