In a world where self-expression knows no bounds, the body has become the canvas for tattoos symbolizing personal stories, beliefs, and passions. However, as people's perspectives and circumstances change, so do the inked narratives on the skin. This is where laser tattoo removal comes into play. National Tattoo Removal Day is an official holiday commemorating the transformative power of laser tattoo removal. Each year on August 14th, National Tattoo Removal Day honors the art of tattoo removal, celebrating practitioners and those who have received laser tattoo removal services that have impacted their future. Read this article to learn more about the holiday and view the 2023 National Tattoo Removal Day highlight reel.
---
National Tattoo Removal Day History and Significance
Tattoos, once considered permanent markers of identity, have become more fluid expressions of one's self. Laser tattoo removal allows people to safely and effectively completely remove or modify something that was once considered truly permanent.
National Tattoo Removal Day, celebrated annually on August 14th, holds a multifaceted significance. It's a celebration of personal growth, second chances, and the beauty of transformation and self-discovery. The national holiday also honors the professional journeys of those providing laser tattoo removal services; encouraging individuals to embrace change and empower themselves – letting go of the physical reminders that no longer resonate. The day recognizes the vital role of the tattoo removal industry in assisting people on their paths to self-reinvention.
Practitioners and aesthetic laser business owners across the world participated in National Tattoo Removal Day this year. Several of Astanza's clients celebrated by offering special promotions, hosting events, and furthering the conversation online and on social media. View the highlight reel featuring some of Astanza's clients in the video below!
Researching Laser Tattoo Removal Technology
There are two non-negotiables when it comes to choosing the best tattoo removal laser for your aesthetic business: FDA clearance and a reliable, supportive laser company. FDA clearance for laser tattoo removal devices matters because these machines are considered medical equipment, and have to be vetted and cleared by the FDA to be deemed safe for consumption or use. Investing in an FDA-cleared, medical-grade laser tattoo removal machine ensures the safety and comfort of your patients. Choosing to work with a reliable and trustworthy aesthetic laser company will be crucial to your laser clinic's long-term success.
Researching the available devices and understanding how the tattoo removal technology works is important to know you're making the right choice. Considering your clients' needs is key when choosing the best tattoo removal laser technology for your aesthetic laser business, because not all lasers are created equally. Since different lasers encompass different wavelengths, knowing whether the majority of your clientele will have darker-colored tattoos or if you'll need more advanced technology to offer full-color spectrum tattoo removal are two key factors when it comes to picking the best tattoo removal laser for your clinic.
Understanding your state's laser regulations and acquiring the proper office space, insurance, and certifications is also imperative in the beginning phase of your tattoo removal business.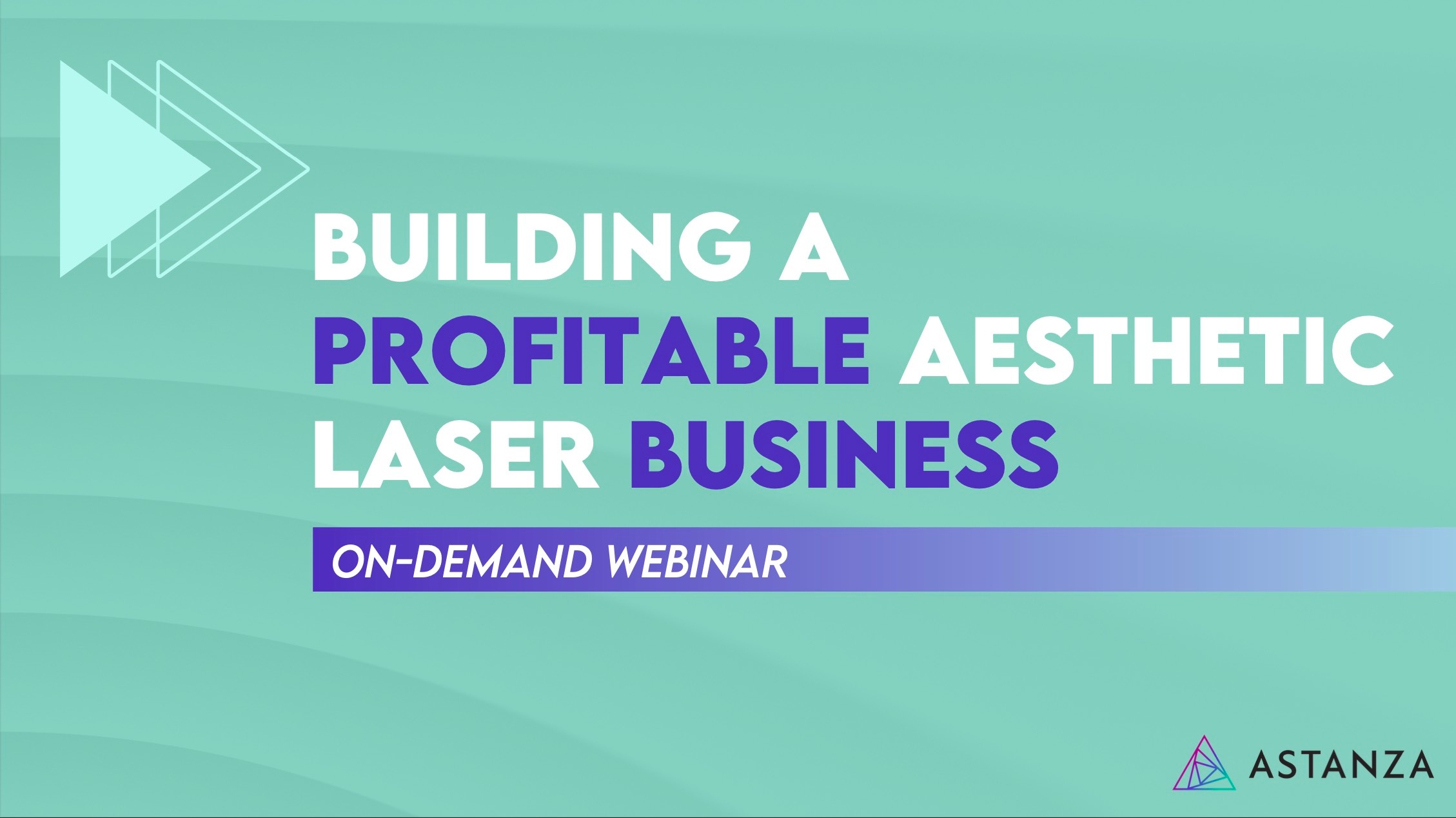 Astanza Laser Tattoo Removal Technology
As a tattoo removal laser practitioner, it's cruciall you invest in a laser machine that will effectively and safely service your potential customers, their skin types, and their needs. If most of your clients are looking for tattoo removal in black, brown, gray, and other dark-colored tattoos inks, then you'll need to purchase a Q-Switched Nd:YAG laser that has both 1064 nm and 532 nm wavelengths.
The Astanza Duality is an advanced Q-Switched, Nd:YAG tattoo removal laser machine that encompasses these two wavelengths to remove tattoos that have black, brown, red, orange, and some darker purples, greens, and blues. The Astanza Duality has a homogenized flat-top beam and micro-lens array, creating a powerful uniform distribution on the treatment area. Learn more about the Duality in this downloadable webinar, Inside the Laser: The Duality.
For the less commonly-colored tattoos like light blues, vibrant greens, yellows, a third wavelength is required to achieve optimal tattoo removal results: 694 nm. The EternityTSR is a Q-Switched ruby laser that targets and shatters even the most vivid blue and green tattoo inks thanks to the unique 694 nm wavelength. Learn more about the EternityTSR in the on-demand webinar, Inside the Laser: The EternityTSR.
Looking for all three wavelengths in one sleek, conveniently-crafted laser device? The Astanza Trinity tattoo removal machine utilizes all three wavelengths: 1064 nm, 532 nm, and 694 nm and can safely and effectively completely remove or fade tattoo inks of any color. The Trinity also has additional handpieces available that expand the laser device treatment capabilities. Get a detailed guide through the Trinity in the downloadable webinar, Inside the Laser: The Trinity.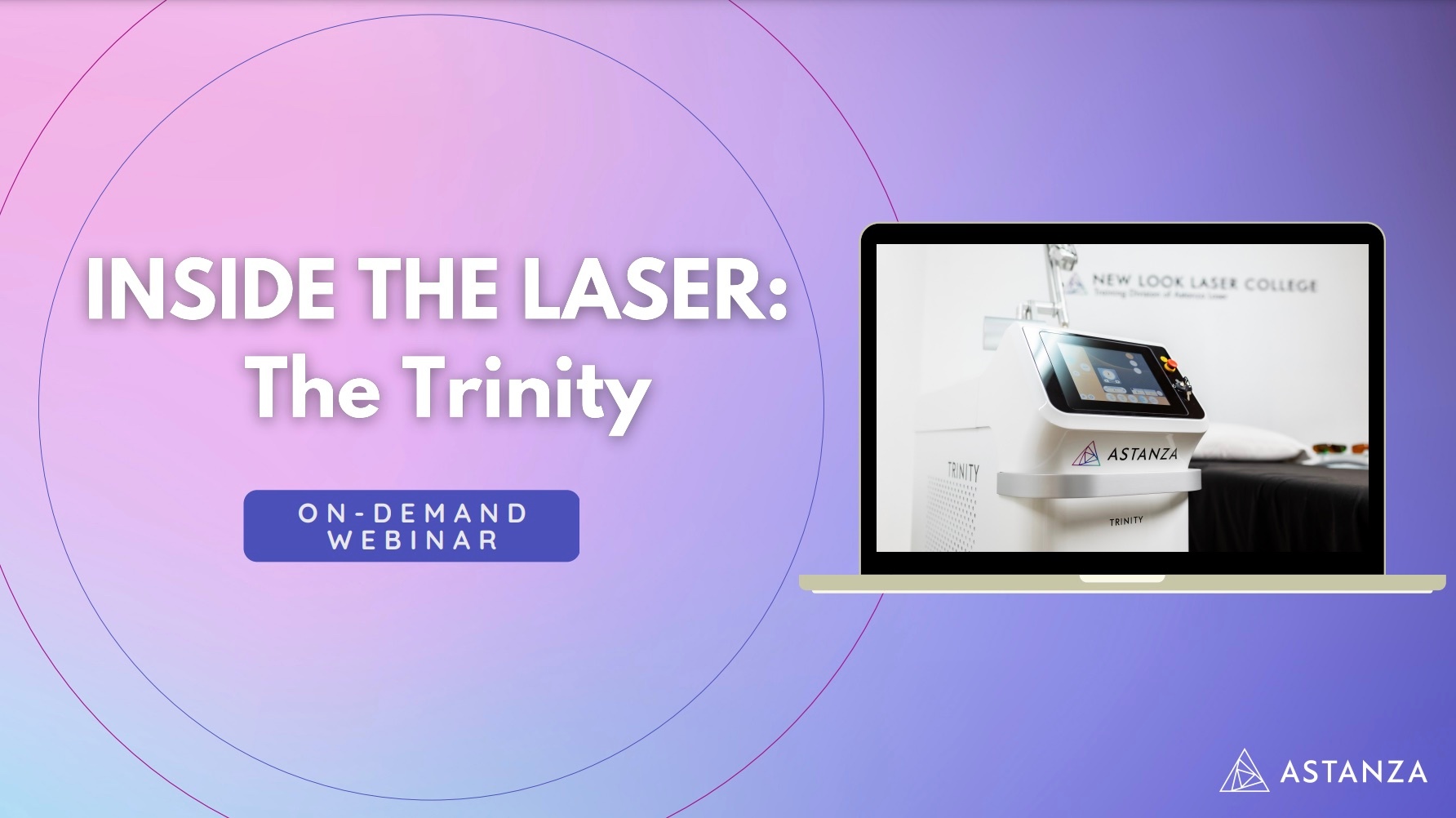 Questions? Contact Astanza today! Our team is dedicated to the success of every client and is here to guide you through every step of your aesthetic laser business journey.