As a med spa owner, adding new services to your practice expands the clientele that walks through your door and helps increase revenue. If you want to be part of the aesthetic laser business industry, researching the best laser procedures and available technologies is a crucial step before expanding your existing clinic. A popular treatment in high demand across all demographics is laser hair removal with a diode laser. Read on to learn more about diode lasers, the benefits of investing in the most powerful diode laser in the market, and how it could increase your average med spa revenue.
---
Diode Hair Removal Lasers
There are two main technologies for hair removal: Intense Pulsed Light (IPL) and diode lasers. While IPL devices release a broad spectrum of light energies, diode laser hair removal machines use a single wavelength to treat the hair follicle. IPL technology may remove hair similarly to diode lasers and may be effective on fairer hair types, but it is generally unsafe in treating darker skin. This limits which skin types med spa owners can treat, potentially letting your profits walk right out the door.
On the other hand, diode lasers are effective, safe for all skin types (Fitzpatrick scale I-VI), including recently-tanned skin, and can treat all hair colors. During the laser hair removal procedure, rapid pulses of laser energy are emitted through the laser's handpiece, directly targeting the unwanted hair follicles. These follicles are then heated up and destroyed to prevent further growth. To offer long-lasting hair removal results, a patient would need, on average, five to eight treatments spaced four to six weeks apart.
The Asclepion MeDioStar®: The Ultimate Diode Hair Removal Laser
When adding a new hair removal device to your med spa, finding the safest, most powerful, and most effective laser hair removal device on the market is important. The Asclepion MeDioStar®, backed by Astanza, is the ultimate solution for hair removal. Designed with a wavelength combination of 810/940 nm, a handpiece cooling system, and various pulse lengths (3 – 400 ms), the MeDioStar® guarantees a safe treatment on all skin types (I-VI).
Unlike other hair removal devices, the MeDioStar® has an industry-leading spot size of 10cm sq., creating faster and more efficient treatments on large removal areas such as a full back or a pair of legs. Its penetration goes deeper into the skin to destroy deeply embedded hair follicles without harming the surrounding skin tissue, giving your med spa clients better treatments.
One great feature is the Monolith technology designed specifically for the MeDioStar® handpieces. The handpiece's silver tip has cooling effects on the skin to numb the area before, during, and after the laser hair removal treatment. The Monolith handpieces are created with 360º technology to give laser practitioners more control during hair removal appointments, enabling treatment in any direction.
Learn more about the MeDioStar®, adding it to your business, and how Astanza guides you through every step. Watch our on-demand Inside the Laser webinar episode on the MeDioStar® for in-depth insight from the Astanza team.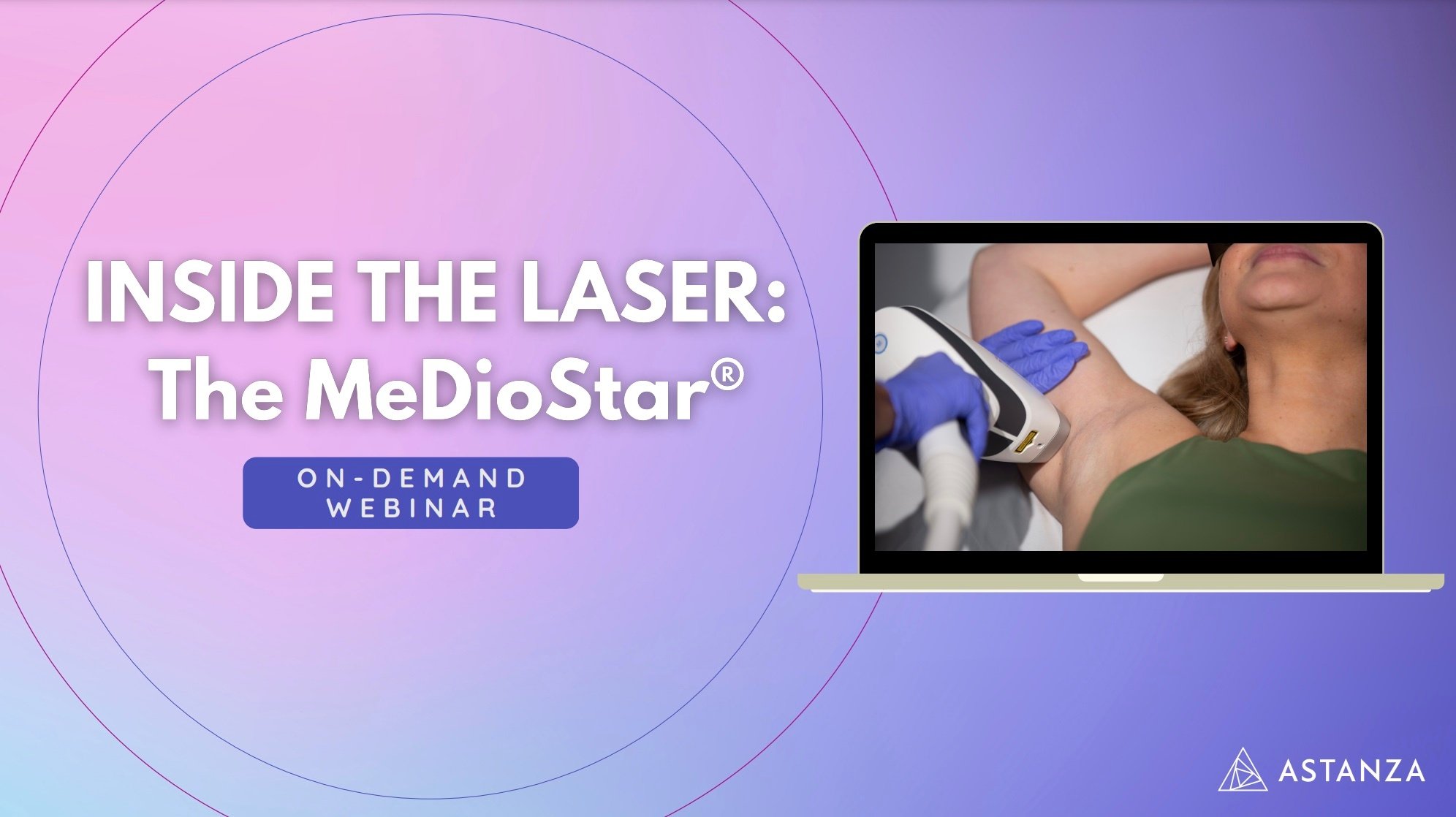 Revenue Streams for Your Med Spa
Adding an aesthetic laser to your med spa that is safe and effective for all skin types and also has different treatment capabilities can increase your revenue in many ways. Investing in a diode laser hair removal device allows practitioners to provide a highly demanded service in the aesthetic world, giving clients the services they're looking for and a new stream of revenue for the med spa business.
The average single treatment price for laser hair removal can vary depending on the size of the treatment area, such as the upper lip, back, chest, or legs. On average, a laser hair removal practitioner will charge about $398 for a single treatment. With the MeDioStar®, med spa owners can offer full hair removal with a norm of five to eight sessions and a treatment time of four to 15 minutes. If you treat four clients per hour during a standard eight-hour work day, your average med spa revenue for that single day could be upwards of $12,736!
In addition to laser hair removal, the MeDioStar® can remove vascular lesions by adding the 940 nm vascular handpiece. This handpiece is indicated for benign vascular lesions such as hemangioma, spider naevi, and venous lake vessels. Its homogeneous flat-top beam profile guarantees the same fluence over the treatment area, decreasing the risk of overlapping or burning the skin. To achieve complete removal, a patient may need an average of one to three sessions, each taking up to 15 minutes. If you charge $312 per session, your revenue can increase to $1,248 per hour.
Become An Astanza Laser Provider
If you want to grow your med spa or aesthetic clinic, incorporating the services the MeDioStar® offers could be a game-changer for your business. Not only does it expand your portfolio of aesthetic services, but it can also increase your profits and help you tap into a new clientele base. Additionally, offering laser hair removal helps attract and retain clients, ultimately leading to long-term success and growth in the aesthetic industry. With the right equipment and well-trained laser practitioners, you can create a thriving business within your med spa.
Learn more about adding the MeDioStar® to your med spa and how to become eligible for the Astanza Experience – the all-encompassing support system for laser business owners. From the Business Builder System to the 3-Business Day Service Guarantee and Lifetime Training and Clinical support, Astanza is here to guide you every step of the way. Contact us today to learn more!