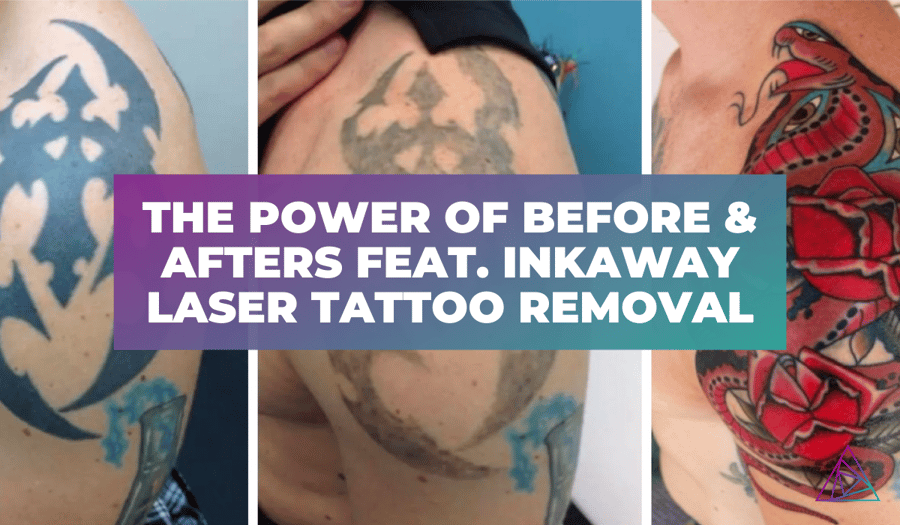 Before and after photos are a staple in any aesthetic practice, especially for laser tattoo removal businesses. Great before and after photos help set client expectations while accurately portraying their treatment progress.
Astanza's annual Client-Only Before & After Contest rewards clients for the fantastic results they've achieved with Astanza technology. This client-exclusive contest highlights the impressive before and after photos that our clients achieve and celebrate #changinglives utilizing Astanza laser technology.
InkAway Laser Tattoo Removal won the Best Completed Tattoo Removal and Best Tattoo Removal Lightening and Cover-Up categories in 2021. In addition, we recently interviewed Stephanie Sapp, an InkAway laser specialist, to learn more about InkAway's journey and how they've positively impacted their community with this laser service. Keep reading to learn more about the power of before and after photos and to see InkAway's winning contest photos.
About InkAway Laser Tattoo Removal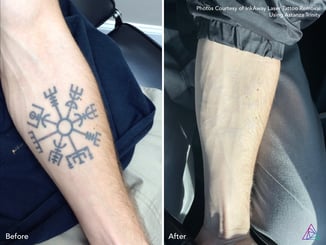 "Matt founded InkAway on the concept of affordable service with unmatched customer service. With the Astanza Trinity, one of the most advanced lasers in the industry, and our everyday low prices, 50% less than a cosmetic surgeon and 34% less than a medspa, we offer exceptional results at an affordable price. We've been in business since May 2016 and have continued to grow over this time with offices now in Delaware and Chester Counties, and we are looking to expand into Montgomery County," said Stephanie Sapp, InkAway laser technician specialist.

After researching the tattoo population and tattoo regret market, Matt Russo founded InkAway Laser Tattoo Removal. Thanks to Russo's diligent efforts and Astanza's award-winning marketing and service support, InkAway is now the leading provider for laser tattoo removal in the greater Chadds Ford and Paoli areas. Russo attributes InkAway's success to the Astanza Trinity full-spectrum tattoo removal laser that treats all skin types and ink colors, affordable treatment pricing, and quality staff and customer service.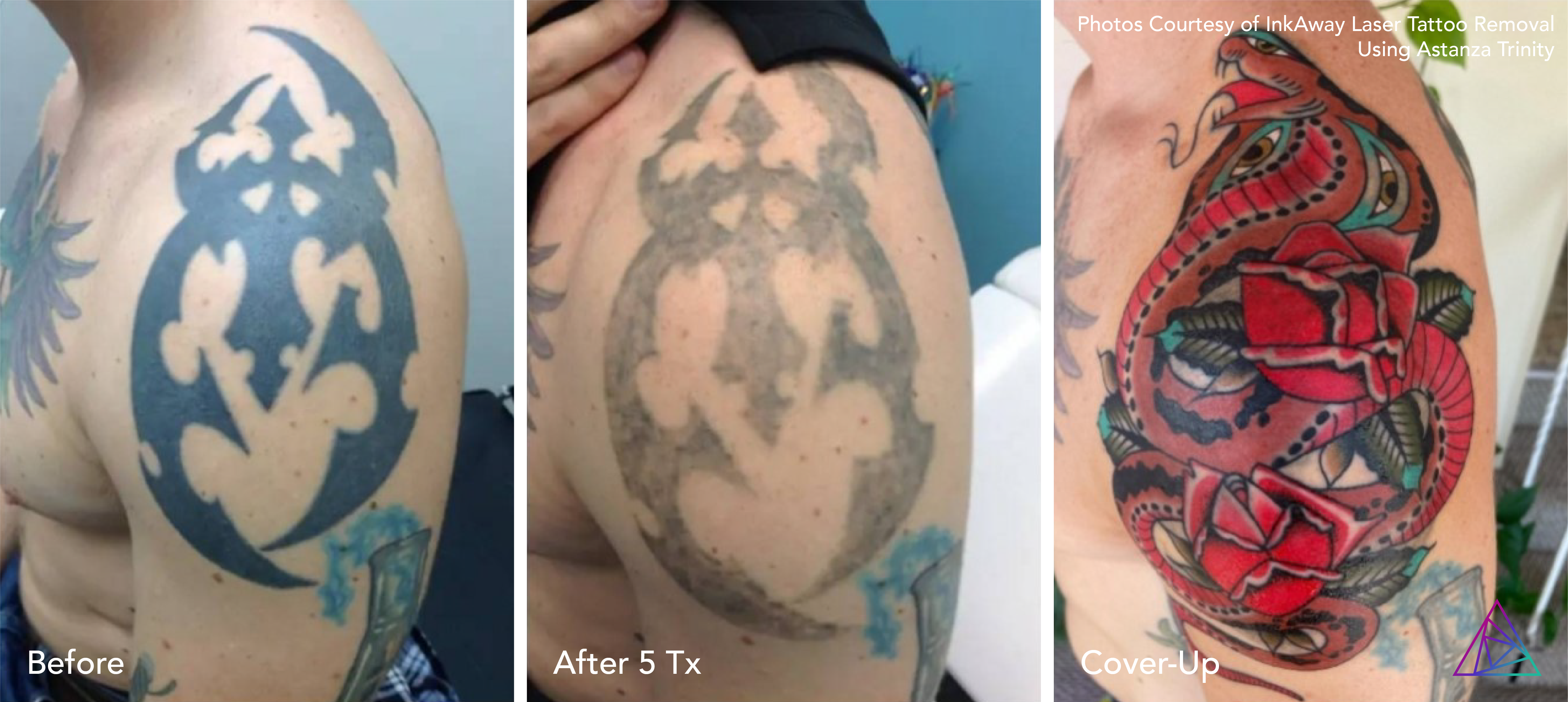 Astanza is so proud to partner with clients like InkAway who genuinely care about helping people with tattoo regret. We want to thank all the clients who participated in last year's contest! Astanza clients can enter this year's contest by clicking here.
The Impact of Before & After Photos
If there's one thing potential clients are interested in, it's whether you can deliver on your claims. In InkAway's case, clients may have asked whether they could erase all tattoo colors or if fading a tattoo could help them get the cover-up of their dreams.
Not only did InkAway keep their promise, but they also established trust when they fulfilled their clients' expectations through the results photos on their website. The best way to showcase your aesthetic practice's services, expertise, and testimonials is by purchasing a high-quality, full-spectrum laser tattoo removal device and then documenting your clients' progress through a before and after gallery of actual patient results and progress photos.
Does your aesthetic business's before and after gallery need a refresh? Check out our webinar, Mastering Before and After Photos to Grow Your Aesthetic Business, and ebook, Mastering the Art of Before and After Photos, to learn how to improve your results photos to generate leads and book more appointments.
Our experts unwrap the top tips to structure your photo gallery to drive clients and ultimately increase revenue in these resources. We discuss patient intake and consent forms, how to capture quality photos using the right angles, lighting, backdrop, and more, what type of camera equipment to use, photo storing and patient cataloging through software like RxPhoto, and where to share your photos.
Are you looking to start your own tattoo removal practice or improve your before and after results by purchasing or upgrading your tattoo removal laser? Then register for our upcoming webinar, "5 Key Steps to Launching Your Aesthetic Laser Business," on February 23rd at noon Central to learn more about starting your aesthetic practice.