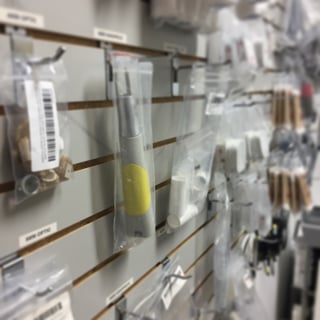 Lasers for tattoo removal are complex systems that require regular maintenance and service to in order to perform properly. In fact, one of the most important factors that tattoo removal business owners should consider when purchasing a laser is whether the manufacturer provides fast and reliable service.
Why is technical service so heavily stressed in this industry? Laser tattoo removal is known for being a procedure with little to no downtime. When a laser breaks down or does not function properly, a clinic is unable to perform treatments and make money. Having immediate access to service and frequent preventative maintenance visits can help avoid extended downtimes and aid the success of your clinic.
Astanza prides itself in having the best laser engineers and technical support department in the business. We understand that regular service and maintenance is not only the backbone of a successful clinic, but also a huge factor in the happiness of your clients. Laser tattoo removal customers have more peace of mind and confidence in their removal results when they know the laser treating them is regularly maintained. 
This article discusses why technical service is important, why it helps in the long run, and what our engineers do to make sure your laser is performing optimally.
---
What is Technical Service?
When speaking about technical service, what does that even mean and what does laser service entail? Technical service is any work done "inside" of a laser or to any of its physical or software components. Our laser systems are designed to operate efficiently and effectively for tattoo removal and other aesthetic procedures. Maintaining the highest level of efficacy and smooth operation takes some regular maintenance. Astanza's engineering team has designed a laser installation and maintenance plan to set your laser system – and tattoo removal business – up for long term success.
If even one part of your tattoo removal laser is not functioning properly, the device will not perform as it should and the dependent tattoo removal business may suffer. Astanza's preventative maintenance plan has been designed to minimize issues and maximize laser performance, device lifespan, and overall success.
A laser system that works as it should – clean, clear optics, dust-free laser cavity, aligned beam path, calibrated energy measurement and software, etc. – will make a laser tattoo removal business money. The point of the laser tattoo removal business is just that.
Benefits of Regular Service
The idea behind regular laser service is to increase a system's efficiency, decrease a laser's downtime, and assure a laser performs optimally without any failures. The same can be said about a car. Regular oil changes, brake inspections, and tire rotations help avoid unwanted breakdowns and are essential to a car's performance and lifespan. Similarly, preventative maintenance and regular service keep a laser in top shape and allow it to produce the best results.
The benefits of regular laser service ensure that your laser's internal optics are aligned correctly, the hand piece is cleaned properly, and that there is no loss of energy taking place throughout the beam path. Astanza's engineers go through a very thorough checklist when servicing any tattoo removal laser system.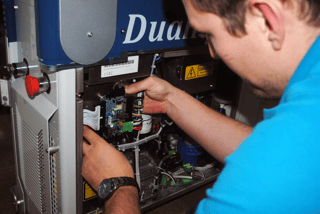 Unlike cars that can be serviced by virtually any mechanic, tattoo removal lasers can only be serviced by laser technicians with experience on the specific device. Due to the complexity of the internal components that vary from laser system to laser system, Astanza's expertly trained engineers should be the only people servicing our devices. It's important to note that not all laser manufacturers have access to dedicated laser technicians. In fact, many companies that do not have an internal service team rely on freelance laser technicians to service the systems they sell. Freelance technicians often have limited access to laser parts and are inexperienced with servicing specific lasers.
Preventative maintenance, regular service, and pre-planned visits allow our engineers to clean all of the laser's components, assess the laser's energy output and beam alignment to factory specifications, and remove dust build-up to avoid optics from burning out. Overall, regular service helps fix issues before they arise and prolongs a laser's life and your investment.
The Astanza Difference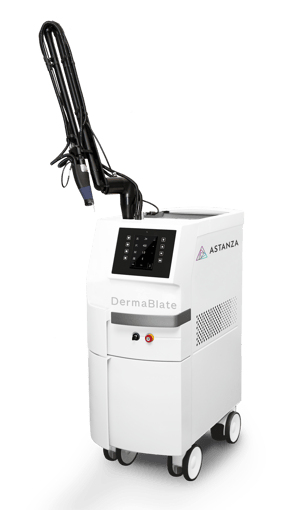 What makes Astanza stand out in regard to service is that our engineers are experts on our laser systems and not outsourced to third party service companies that work on a variety of laser systems, few of which are Astanza products. We know our lasers inside and out. We know how they are supposed to function, how to diagnose issues, and most importantly, how to solve the issues, should one arise. One of our best attributes is that we do all of this with the quickest response times in the industry.
Astanza Laser is the only company that has an internal engineering team. All of our laser engineers have advanced mechanical or biomedical degrees and are devoted to meeting the needs of our clients. We have the ability to service a wide range of Q-switched lasers, and thoroughly support all Astanza devices. Should an emergency arise, we're the only company able to provide a worldwide, 24-48-hour turnaround time to get a laser system back up and running. Our expert internal service team is able to consult about a laser's condition, resolve many issues (technical and clinical) over the phone, and determine the direction of further system maintenance and repair.
Our in-house service team offers flexible extended warranties and affordable tiered service plans for all Astanza systems. Each service plan includes special discounts specific to your laser, as well as complementary marketing support to help you attract patients and achieve a return on your laser investment.
---
Astanza has created a unique offering for technical service and support that is industry leading and dedicated to your success in the laser tattoo removal business. Our service team offers confidence to anyone who purchases a tattoo removal laser from Astanza. The unparalleled service – swift, effective, and affordable – separates Astanza from the rest of the industry. Our goal is to support our customers and create a lasting relationship versus a single transaction. Because of this, we strive to help our clients become successful.
With professional installation, a laser check-up every six to nine months, and the on-call support of Astanza's engineers, your Astanza system will last for many years and increase revenue generation at your business. To speak to an Astanza technical service team member, email service@astanzalaser.com, or call (800) 364-9010. Service requests and maintenance visits can be scheduled at https://astanzalaser.com/request-service.