Laser hair removal has become one of the most popular non-invasive cosmetic procedures. With the increasing demand for this service from men and women all over the U.S., it's essential for practitioners to upgrade their laser hair removal equipment to meet the needs of their clients and increase medspa profits. The MeDioStar® diode hair removal machine can help aesthetic laser businesses increase their medspa profits by providing a more effective, comfortable, and efficient laser hair removal service.
---
The Asclepion MeDioStar®, backed by Astanza
The MeDioStar® laser is a high-powered diode hair removal machine that penetrates deeper than other devices; targeting the hair follicle thanks to its two wavelengths (810 nm/940 nm). This technology ensures that the laser energy is absorbed by the hair, not the skin, reducing the risk of burns and other side effects. With its advanced 360° cooling system, the MeDioStar® laser also provides clients with a more comfortable hair removal treatment experience.
One of the main benefits of upgrading to the MeDioStar® laser is that it can reduce the number of treatments required to achieve permanent hair reduction. This is because the MeDioStar® laser has a larger spot size of 10 cm2 – the largest available on the market – which means it can treat a larger area of skin in a shorter time. This not only saves time and money for the patient but also increases the efficiency of the service, allowing practitioners to see more clients in a day.
Another benefit of the MeDioStar® laser is that it can be used on a wider range of skin types and hair densities than other hair remova machines. In fact, the MeDioStar® can safely and effectively treat all skin types on the Fitzpatrick scale (I-VI), including recently tanned skin. This means practitioners can offer laser hair remova servicesl to a broader range of clients, increasing their customer base and medspa profits.
The MeDioStar® laser also has a lower cost of ownership than other laser hair removal devices. This is because the device has no consumables and has a longer lifespan than other lasers. With the Astanza Experience, practitioners are aided with service and lifetime training, along with clinical and marketing support. Practitioners have an advantage when choosing Astanza Laser technology because of the wraparound support the Astanza Experience provides.
Upgrading to the MeDioStar® laser is an excellent investment for practitioners who want to increase their average revenue and overall medspa profits. With its advanced technology, efficiency, and cost-effectiveness, this FDA-cleared, medical-grade hair removal laser provides practitioners with a competitive edge in the market; helping them meet the high demand for laser hair removal services. If you're looking to grow your medspa business, consider upgrading your hair removal equipment to the MeDioStar® diode laser hair removal machine.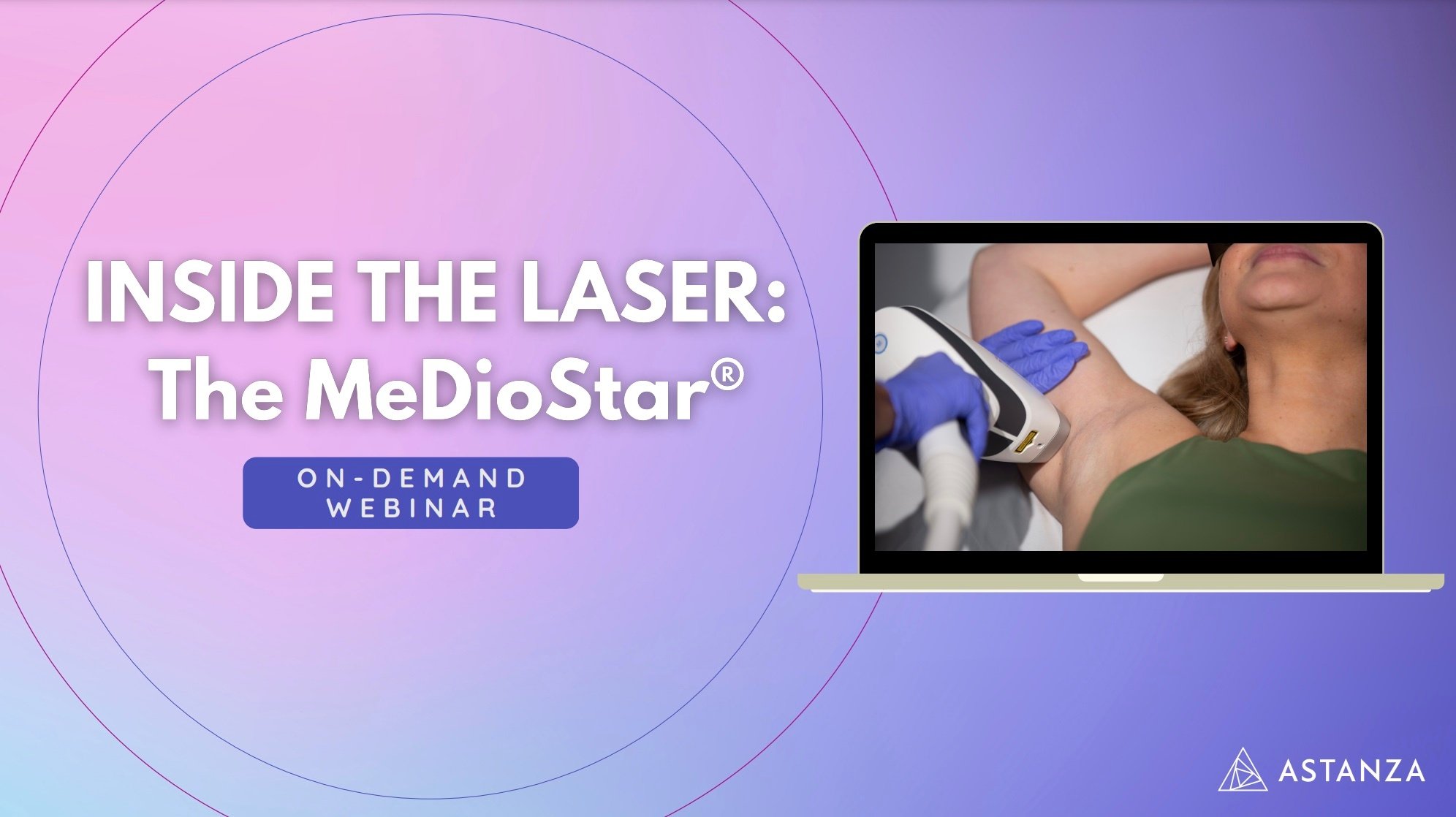 The Difference Between Diode vs. IPL Lasers
When it comes to getting rid of unwanted hair, you've got a few options. But the two most common methods are diode and IPL lasers. Although IPL lasers can remove unwanted hair, diode lasers are way more effective and efficient. The laser energy goes straight to the hair follicle, stopping hair growth in its tracks. This happens because of the intense light emitted by the hair removal laser device, which is absorbed by the hair pigment and turned into heat.
IPL lasers, on the other hand, are less precise. They emit numerous wavelengths of light that get absorbed by the hair and turned into heat. While IPL lasers may work well on lighter skin tones and darker hair colors, they're ineffective on other skin and hair types and can even cause pigmentation issues for those with darker Fitzpatrick skin types. Additionally, IPL devices require more treatments to get the similar desired results as diode lasers provide.
As a practitioner looking for a safe and reliable method to remove unwanted hair, diode lasers are a great investment. The MeDioStar® is an excellent option for a diode laser hair removal machine due to its power, effectiveness, and ability to safely treat all skin types.
Increasing Your MedSpa Profits
Depending on the size of the treatment area, an aesthetic practitioner charges an average of $100 – $800 for a single laser hair removal treatment. With an average treatment time of about 15 minutes for a large treatment area such as the back or a pair of legs, laser practitioners and aesthetic laser business owners could increase their medical spa revenue by $1,800 per hour (with an average cost of $450 per session) and become extremely profitable.
The MeDioStar® alslo has an optional vascular handpiece that expands the services offered at a medspa, and in doing so, increases the average medspa revenue and profits. The vascular handpiece has a 940 nm wavelength, targeting common vascular lesions such as spider veins. For complete removal, a patient would need an average of 1 to 3 sessions. With an average cost of $312 for a single laser vascular removal and averaging about 15 minutes per session, a medspa owner could increase their revenue by $1,248 per hour.
Contact Astanza Laser
If you're ready to upgrade your diode laser hair removal machine to the MeDioStar®, contact Astanza today. We'll guide you through the process of transitioning to the most powerful diode laser on the market, providing expert service along the way.