Visit Our Tattoo Removal and Hair Removal Lasers in Dallas, TX
Over the past year or so during the COVID-19 pandemic, one of the things that we have missed at Astanza the most is getting out to tradeshows, seeing our clients at networking events, and meeting new people to talk about laser hair removal and tattoo removal. Yes, we offer virtual demos, but those aren't the same as speaking to someone face-to-face and having actual human interaction. After all, we love our clients, and we highly value the chance to talk to them in person.
Now that more people are getting vaccinated and case levels are falling, we are returning to in-person events, and our first one of 2021 is the International Congress of Esthetics & Spa in Dallas, TX, at the Kay Bailey Hutchison Convention Center on June 6 & 7, 2021.  We will be in booth 200 & 202 so make plans to come by and see us!

Here is some information on the upcoming International Congress of Esthetics & Spa happening June 6 & 7, 2021.
Astanza Booth: 200/202
We will be showcasing the Astanza Duality Tattoo Removal Laser and the Asclepion MeDioStar. 
Astanza Duality: Tattoo Removal Laser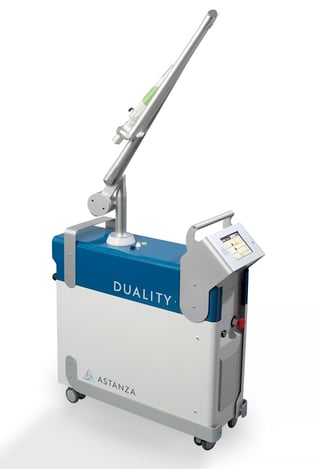 A powerful Nd:YAG laser for tattoo removal and pigmented lesions. The Duality is our flagship machine for professional tattoo removal and a workhorse for aesthetic practitioners that demand high performance, reliability, and results.
With an ultra-short pulse duration (6000 picoseconds), high peak power, and essential wavelengths for versatility on colors, the Duality removes tattoos faster with better results.
The Duality gives practitioners the power and reliability to perform countless profitable procedures with confidence. This dual-wavelength laser is versatile, powerful, and competitively priced.
Asclepion MeDioStar: Hair Removal Laser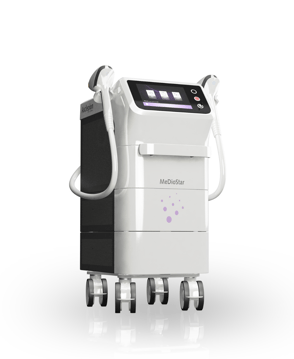 The ultimate diode hair removal laser on the market. The Asclepion MeDioStar® diode laser, backed by Astanza, revolutionizes hair removal treatment and other aesthetic procedures thanks to its intuitive design and leading advancements in technology. Visit it in action in Dallas, TX.
Featuring a cutting-edge cooling system, an industry-leading spot size at 10 cm2, numerous treatment capabilities, improved overall user experience, and much more, the MeDioStar® is the preferred choice for aesthetic practitioners, dermatologists, plastic surgeons, and leading medical spas.
CONGRESS HOURS
SUNDAY, JUNE 6
9:30 A.M. – 6:00 P.M.
MONDAY, JUNE 7
10:00 A.M. – 5:00 P.M.
To make sure that everyone in attendance is safe and well-informed before attending, we wanted everyone to know about the safety protocols that the conference is putting in place. As the situation is rapidly developing, these protocols may change, but this is what we know today.
ICES Dallas 2021 Safe Event Commitments
Your well-being is The International Congress of Esthetics and Spa's #1 priority.
Here's what we're doing to protect your health and peace of mind so that you can focus on getting back to business.
Health & Safety
All attendees must complete COVID-19 health screenings upon entry to the event.

Masks are required for all participants and staff. Masks will be provided for any participant who needs one.

Hand sanitizer stations will be available throughout the event on the exhibitor floor and in common areas. All participants are encouraged to wash and disinfect their hands regularly.

Disinfectant fog spray service will be used each morning prior to opening and every evening after event closing.

Enhanced cleaning will occur before, during, and after the event, focusing on high-touch areas such as door handles, restrooms, and food and beverage areas.
Social Distancing
Registration badges will be mailed prior to the congress to limit on-site queuing.

30 ft aisles on the trade show floor will help manage traffic and avoid crowding.

Floor markings and relevant signage will be used to maintain social distancing.

Workshops and Conferences will be set up to allow 6′ of space between chairs, and there will be limited capacity on a first-come, first-serve basis.

Food and beverage will be provided in a no-contact way through pre-packaged food.
You can click here to learn more about the conference. See you in Dallas June 6 & 7th at the International Congress of Esthetics & Spa – Astanza Booth 200/202!