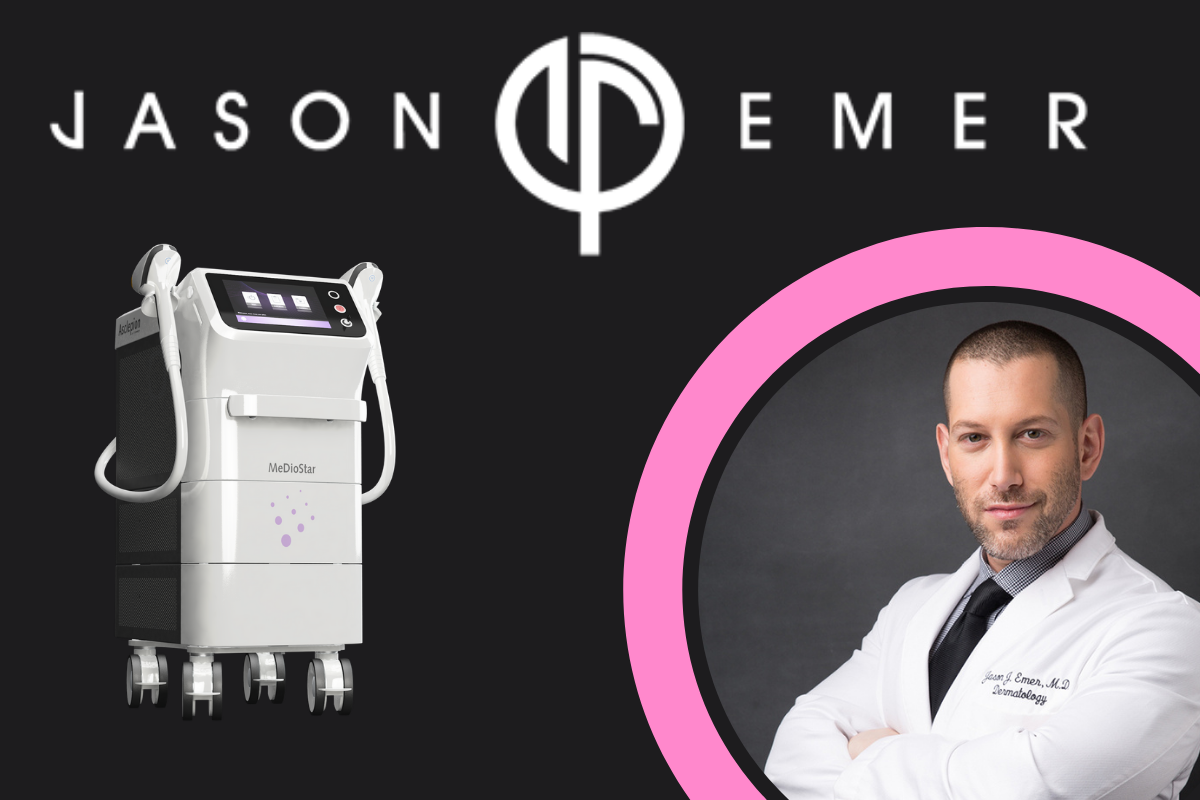 Recently, Byrdie beauty blog named Dr. Jason Emer as the "Best Cosmetic Dermatology Office" in their article, "The Best Places to Get Laser Hair Removal!" Dr. Jason Emer uses the Asclepion MeDioStar diode hair removal laser backed by Astanza Laser at his clinic based in Beverly Hills, CA.   
We love sharing our clients' success with our readers, especially whenever they make waves in the aesthetics industry and earn well-deserved media attention for their outstanding work. Nothing makes us happier than when clients receive recognition for their efforts to change patients' lives through various aesthetic laser procedures. Astanza Laser clients consistently deliver excellent service and meaningful results with their competitive aesthetic laser equipment, and we're proud to play a part in their growth and success!   
Keep reading to learn more about the MeDioStar and why Dr. Jason Emer earned a feature in Byrdie's beauty blog! 
Throughout their article, Byrdie details their winners for the following hair removal categories: "Best Overall," "Best for New York," "Best for Ultra-Personalized Treatments," "Best Atmosphere," and "Best Cosmetic Dermatology Office." Byrdie awarded Dr. Jason Emer's clinic as the "Best Cosmetic Dermatology Office" for laser hair removal because he is a leader in the aesthetics/dermatology community and is renowned for his innovation and use of cutting-edge technology. Here's what Byrdie likes about Dr. Jason Emer's aesthetic clinic the most: 
Founded by a board-certified dermatologist and cosmetic surgeon

Uses and innovates with top-of-the-line laser technology

Five-star service and accommodating staff 
About Dr. Jason Emer
Dr. Jason Emer is known for pushing the limits in body-sculpting, liposuction, and dermatology. Dr. Emer is a board-certified dermatologist and cosmetic surgeon and specializes in complex cosmetic procedures. His expertise and skill have earned him a reputation of being the master of his field nationwide.
Dr. Emer's clinic rises above his competition by delivering a 5-star experience for each patient that walks through his doors. His practice tailors treatment to each of his patients' unique, individualized needs and long-term goals. He ensures that each patient feels heard, informed, secure, and highly prioritized during their visit.
At his clinic, patients can choose from a wide variety of aesthetic procedures in addition to laser hair removal. Dr. Emer continues to innovate in the aesthetics field through his clinical trials and investigational procedures in various dermatology fields. His efforts have influenced FDA approval for new methods he's discovered, including medications, skincare, and devices used for treating various dermatological conditions. Emer frequently lectures on his findings and has acted as a consultant for medical device and pharmaceutical companies. Dr. Emer has earned recognition from several publications and websites, including Cosmopolitan, Bazaar, Allure, Elle, Men's Fitness, Modern Luxury, Pop Sugar, and more. 
MeDioStar Laser Hair Removal Treatments at Dr. Emer's Clinic
Dr. Emer only treats patients with the newest, cutting-edge lasers, including the MeDioStar diode laser. He starts his patients' laser hair removal journeys with an in-depth consultation and custom comprehensive treatment plan.
Dr. Emer uses the MeDiostar diode hair removal laser with the Monolith handpiece to treat unwanted hair. The MeDioStar was Dr. Emer's first choice because it is the fastest diode laser available in the US. It uses a unique combination of wavelengths, high-frequency pulses, and innovative built-in cooling technology for effective and painless application. These competitive features specifically optimize each treatment by targeting the deepest hair follicles. 
The MeDiostar  widely known for prioritizing patient comfort thanks to its 360-degree skin cooling system. The built-in cooling feature cools the epidermis during treatment to protect the skin and ensure even energy distribution. In doing so, the MeDiostar prevents hot-spot formations and reduces the chance of unwanted side effects and discomfort during treatment. 
Learn More About the MeDioStar
We're so excited for Dr. Emer's practice to receive recognition from Byrdie for his outstanding service in laser hair removal with the MeDioStar! Dr. Emer recently co-hosted a webinar with Astanza detailing his experience using the MeDiostar and sharing insight about offering laser hair removal at one of the top medical spas in the country. Click here or below to watch the free pre-recorded webinar, "Dr. Emer Talks Advanced Laser Hair Removal for Med Spas!"