What is Contact Cooling? And Why is it so Important for Laser Hair Removal?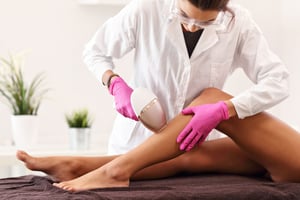 Laser hair removal has cemented itself as one of the most popular aesthetic procedures available, so clinics must stay competitive by offering additional features and enhancements to stand out to prospective patients. One key aspect of laser hair removal treatments that practitioners often overlook is skin cooling, aka "contact cooling"! 
"Contact cooling" is a term that laser manufacturers coined to convey their laser handpiece's ability to, quite literally, cool the skin upon contact before and during laser energy emission. Cooling the skin before a laser hair removal treatment is especially critical in today's technology since older laser technology was infamous for not prioritizing patient comfort. Most older hair removal lasers were responsible for discomfort, burning sensations, and even pain. Why? Because they had no built-in way to prepare the skin for the laser energy about to be emitted. Many clinics are still using these older lasers today, resulting in less-than-stellar treatment experiences for their patients. 
Luckily, more modern hair removal lasers, like the MeDioStar by Asclepion, come equipped with skin cooling capabilities built into the laser's handpiece. Keep reading to learn about the benefits of built-in skin cooling in laser hair removal devices! 
Saving Money 
To put it simply, business owners save money in the long-run by choosing a hair removal laser with built-in skin cooling capabilities because they won't have to buy additional cooling supplies or standalone devices regularly. Aesthetic clinic owners have to justify each purchase made on behalf of the business by analyzing cost, usage, added benefits, and more. If purchasing more equipment to perform a single procedure proves to be a burden on your wallet, it might be time to reconsider your hair removal device of choice. 
Saving Time 
In the aesthetics industry, we know all too well that time is money! When you're trying to optimize your treatment schedules for each day and see as many patients as possible, it's crucial to streamline every patient care process. Built-in skin cooling chills the treatment area much faster than other methods, and it keeps cooling the skin even during the procedure. If you're spending an extra 10-15 minutes cooling treatment areas on each laser hair removal patient before their treatment, you'll find that you could've treated another five paying patients (at least) with all that wasted time.
Remember that even spending 5-10 minutes cooling with ice packs because they seem like a cheaper option will cost you precious time and labor better used elsewhere in the long-run. Using lasers with built-in contact cooling ensures your practitioners can save time throughout their busy workdays and ultimately treat more people. 
Saving Space 
It should go without saying that consolidating your equipment saves space inside your business! Not only do you save time and money by opting for a hair removal laser with built-in contact cooling, but you also benefit from not cramming more equipment into traditionally small treatment rooms. Not all commercial leases let you bust through walls and reconstruct areas as needed, so it's essential to maximize the space you have. Ensure that your practitioners don't have to climb over excess cooling equipment to find the perfect angle for treatments. 
Giving practitioners the space to move freely in the hair removal treatment room also enhances the patient experience. Keep in mind, we want to create an inviting, clean, and aesthetically pleasing environment to welcome our patients – not overwhelm them with extra accessories and clunky devices needed for skin cooling. These "extras" clutter their line of sight and throw off your clinic's look and feel. 
Improving the Patient's Overall Experience
By treating hair removal patients with lasers that feature built-in skin cooling, you ensure that they leave feeling like they had the best treatment experience possible. We need to remember that our patients are just as busy as we are, and they'll recognize and appreciate how speedy their overall treatment is thanks to built-in contact cooling, larger laser spot sizes, and more. Built-in cooling makes hair removal treatments incredibly more comfortable, saving patients the stress of getting "zapped" and allowing them to enjoy their time spent at your clinic even more. Lastly, a more streamlined, less cluttered appearance in the treatment room from lack of extra cooling supplies enhances their perception of your business – and encourages "good vibes only" at your clinic! 
The MeDioStar features the best cooling capacity through Peltier elements coated by aluminum (8 times higher cooling transmission than sapphire), additional sapphire cooling on the XL hand piece, and different cooling levels for before, during, and after treatment. It also has automatic skin temperature detection and emergency switch off in case of skin over-heating. If you're interested in learning more about the leading diode hair removal laser featuring built-in contact cooling, click here or below to watch Dr. Jason Emer share his experience using the MeDioStar in his West Hollywood practice!
Dr. Emer continually challenges the status quo at his aesthetic clinic by developing new surgical techniques, introducing new technology, and never settling for "just good enough." We're honored Dr. Emer trusts the MeDioStar with his valued patients, and we were thrilled to co-host this special webinar with him. Click here or below to watch the webinar now for free!