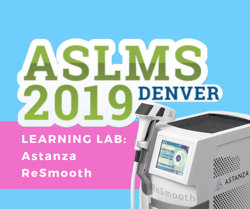 The Astanza ReSmooth diode laser has been selected to be featured at the 2019 ASLMS conference in Denver this March!  The ReSmooth will be featured during a hands-on "Learning Lab" hosted by ASLMS with instructional laser hair removal. 
Learning Lab participants will learn more about laser / light-based devices used for hair removal, body contouring and vascular treatments.
#SkiLodgeASLMS #ASLMS2019 #LearningLab #Aesthetic
Vascular Lesions – Melanie M. Kingsley, Yakir Levin
IPL – H. Ray Jalian, Brenda LaTowsky
Hair Removal – Sandeep S. Saluja, Vineet Mishra, featuring the Astanza ReSmooth
Body Contouring – Daniel P. Friedmann, Adam J. Wulkan
Performing one of the most consistently in-demand aesthetic treatments, the Astanza ReSmooth's innovative technology helps practitioners meet their patients' laser hair removal needs effectively and efficiently.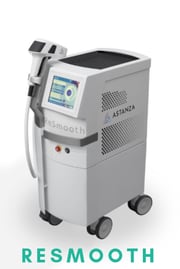 The ReSmooth's industry-leading spot sized (9.1 cm2) lets laser practitioners cover larger areas at a time, speeding up treatments and decreasing downtime between patient visits.
The diode laser also uses an 810 nm and 940 nm wavelength to effectively target deeper hair follicles.  The ReSmooth is able to target hair follicles of any color to stunt future hair growth at the root.
ASLMS attendees can learn more about the Astanza ReSmooth at the "Ski Lodge" (Booth #707) in the exhibit hall. (Follow #SkiLodgeASLMS on social media!)
"Our clients have been excited about adding the ReSmooth to their practices because they can treat their hair removal patients so much faster with less downtime," said Brent Nixon, Astanza Laser VP of Sales.  "They're also not having to turn patients away due to hair thickness or skin type, meaning they have a much larger opportunity they're able to capture for their businesses."
Using advanced diode technology, the ReSmooth allows practitioners to treat all skin types (I – VI) and any hair type.  SmoothPulse mode and its integrated skin cooling system work together to minimize patient discomfort while providing fast and safe treatments.



To learn more about the Astanza ReSmooth and its applications, join Astanza at the 39th annual ASLMS Conference in Denver, March 27 – 31, 2019 at the Colorado Convention Center.
Visit us at the Ski Lodge (Booth #707) to learn more about our latest in aesthetic lasers, including the Astanza DermaBlate, etherea mx, and ReSmooth and receive an exclusive Celebrity Gift Bag!*
The Astanza ReSmooth will be featured during the Laser Learning Lab: Session #1A on Thursday, March 28.
Read more about Astanza at ASLMS here!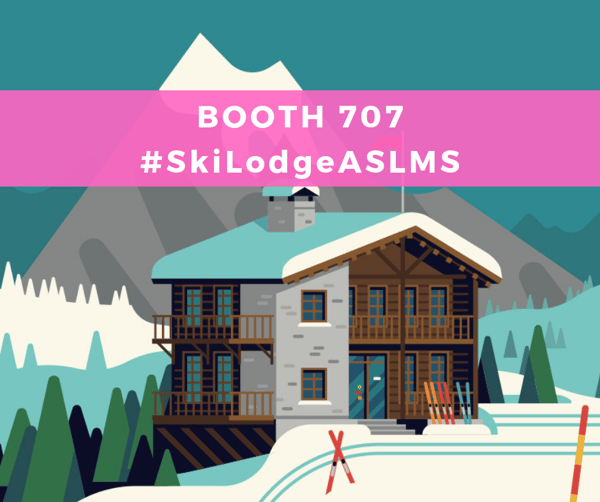 ASLMS 2019 DENVER
March 27 – 31, 2019 
Colorado Convention Center
Click to register for ASLMS 2019 in Denver, CO.
LEARNING LAB SESSION 1A
Featuring the Astanza ReSmooth
Thursday, March 28, 2019
12:15 PM – 2:45 PM
Room 203
See you at ASLMS – Ask us about getting a Celebrity Gift Bag* from the Ski Lodge!
*Celebrity Gift Bags available while supplies last.